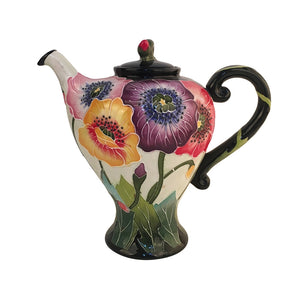 Description:
About the creator, Blue Sky Clayworks, makers of ceramic tabletop products.  They have been in business for over 20 years and their craftmanship is excellent.  Beauty and whimsy are woven into their designs and Blue Sky remains a customer favorite.  
This Poppy Teapot is popping with color and is stunning as well as functional.  
The measurements are: 9" x 5.5" x 8"
Top shelf dishwasher safe.
It's shape is tall and elegant.