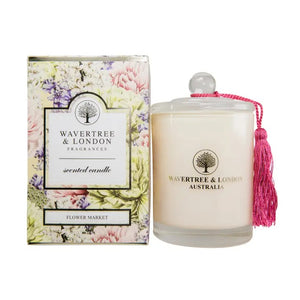 These soy candles from Wavertree and London are so decadent. The packaging and presentation is as beautiful as the scents.  We are all obsessed with how amazing these smell.
Over 60 Hour Burn Time - 350g Triple scented to offer a long lasting fragrant candle.
Made from natural soy wax with a cotton wick which burn clean. Hand poured in Australia
Dimensions: 8" l x 4" w x 6.13" h  
This candle smells like walking into the florist in spring; Hyacinth, Jasmine, Roses, White Lily and Melon.