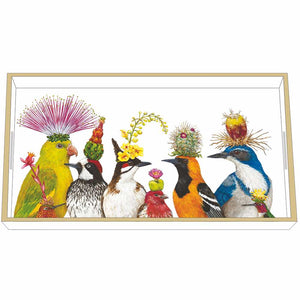 About this item
MATERIALS: Lacquered Wood
MEASUREMENTS: 12 1/4" X 7
SIDE DISH ESSENTIAL: Fill up this decorative serving platter with side dishes, fruits and veggies or a main course. The spacious serving trays and platters offer an elegant way to display your culinary talents.
EYE-CATCHING DESIGNS: These decorated serving platters are perfect for sprucing up your dining room tabletop décor. Featuring illustrations from well-known artists, these decorative serving platters offer a colorful addition to your home décor.
DELICATE CONSTRUCTION: Crafted from lacquered wood, these beautiful serving platters are durable for regular use and feature a sparkling structure to dress up your next dinner party.
SINGLE DECORATIVE TRAY: Use as a vanity tray on a desk or a dresser; can also be used as a serving tray for glasses or food
ARTIST: Vicki Sawyer
Special Notes: Hand Wash, Food Safe, Non-slip rubber feet to keep in place.