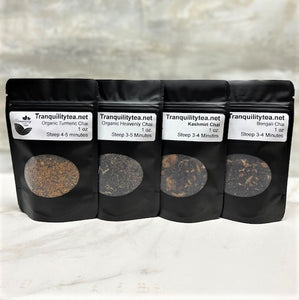 Description:
This sampler set includes four flavored green teas.  Each set contains one ounce of the following teas:
Green Kashmiri Chai: Green tea, almond, cardamom and cinnamon.
Bengali Chai: A traditional black chai with some black pepper for additional spiciness.
Organic Heavenly Chai: A woodsy, warm and citrusy blend in a black tea base.
Organic Turmeric Chai: A healthy combination of black tea and herbs; turmeric, holy basil, ginger root, cinnamon and vanilla.