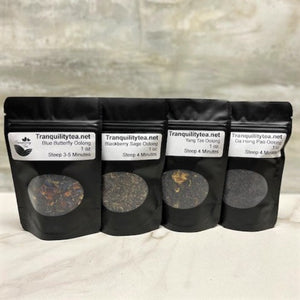 Description:
This sampler set includes four Oolong teas.  Each set contains one ounce of the following teas:
Da Hong Pao: A flavorful complex oolong tea with hints of honey and floral notes.
Yang Tze (Pomegranate): Yuzu, pomegranate and chrysanthemum combined with oolong tea. 
Blackberry Sage Oolong: A sweet and earthy combination...blackberries, raspberries and sage with oolong tea. A great blend of balanced flavors.
Blue Butterfly Oolong: Beautiful and delicate like butterflies...complex and calming.