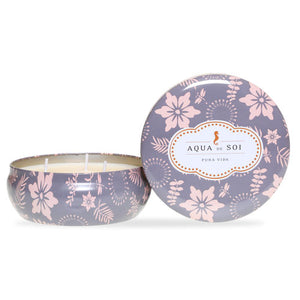 Pura Vida - Soft notes of water lily, bergamot and sea spray with hints of white musk and Tahitian vanilla.
Made from 100% FDA approved, food-grade, kosher, premium soy oil. Not blended with other types of waxes. Hand poured, high quality candles, richly and beautifully scented to enhance your and your family's overall wellness and to provide a warm ambiance to your personal space.
Wicks are 100% cotton and lead-free. Burns cleaner and about 40% longer than wax or paraffin candles. Burns soot-free and does not emit any harmful toxins (such as Benzene) into your home.
SOi candles are created from soy oil that is naturally rich in Vitamin E, essential fatty acids, and lecithin, which benefit the skin when applied topically; The melt pool can be used as a skin moisturizer and to help dry or irritated areas.
Made in the USA. Comes in a beautiful decorative tin with lid. The candle weight is 21 ounces with 3 wicks. Burn time is approximately 70 hours.
Includes Shipping in the United States
Safety Note:
Do not leave burning candles unattended.