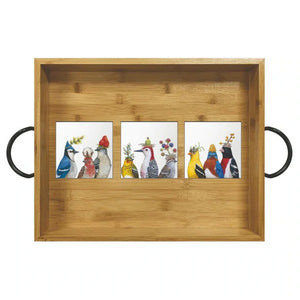 Description:
A beautiful, fun serving tray, fantastic for entertaining or on a sideboard with serving pieces ready to go.  The tray makes a wonderful presentation for appetizers, cheese platter or cups and teapot.
Bamboo is a wood that regenerates quickly and makes it a responsible choice for the environment. It is rated harder than oak which keeps it from becoming permeated from the scent of food.
Measurements: 15" x 12" x 2"
Food Safe
Finishes: Bamboo naturally finished, porcelain tile inserts, metal handles, non slip rubber feet.
Care: Hand wash
Design: Berry Festival by artist, Vicki Sawyer