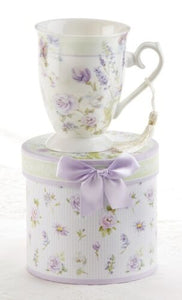 Description:
A beautiful Porcelain mug and gift box with subtle soft shades of lavender and purple. The gift box is just as beautiful as the tea cup. 
Lavender is known to have calming and serene properties.  It is also a color of royalty and represents grace, purity and devotion.
The tea cup is 4.5" tall and 3.5" across the top of the cup.
Capacity: 8.5 oz.
Suitable for hot beverages.
Handwashing is recommended.
Microwave safe.
Includes shipping in the United States