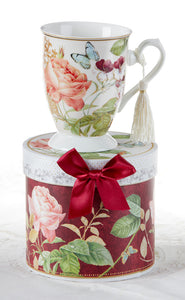 Description:
A beautiful Porcelain Tea Cup, the primary colors are burgundy, green and white with a peony and butterfly design.  The gift box is just as beautiful as the tea cup.
The tea cup is 4.5" tall and 3.5" across the top of the cup.
Capacity: 8.5 oz.
Suitable for hot beverages.
Handwashing is recommended.
Microwave safe.
Includes shipping in the United States