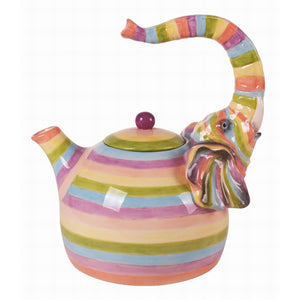 Description:
About the creator, Blue Sky Clayworks, makers of ceramic tabletop products.  They have been in business for over 20 years and their craftmanship is excellent.  Beauty and whimsy are woven into their designs and Blue Sky remains a customer favorite.  
Serve up your favorite tea in this Stripped Elephant Teapot. It is so charming and makes the perfect gift for the elephant lover on your list.  
The measurements are: 8.5" x 6.5" x 9"
It is top shelf dishwasher safe.
A fun and flirty elephant with beautiful pastel colors.