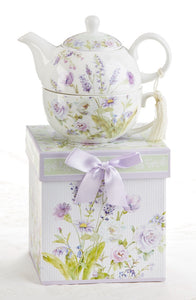 Description:
A beautiful Porcelain Tea for One set whose primary colors are lavender and cream is illustrated in a peaceful garden scene. The gift box is just as beautiful as the tea cup.
Lavender represents all things tranquil; serenity, peace, grace, devotion.  Lavender color is associated with spirituality and royalty.

The tea for one set measures 5.5" x 5.5" x 6".
Capacity: Teapot holds 16 oz. and cup holds 8.5 oz.
Suitable for hot beverages.
Handwashing is recommended.
Microwave safe.
Includes shipping in the United States