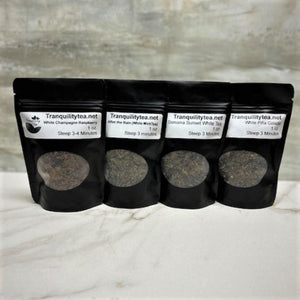 Description:
This sampler set includes four White tea blends.  Each set contains one ounce of our most popular white tea blends:
Sonoma Sunset: Like a picnic in the countryside. A light cabernet with floral notes in a white tea base.
White Pina Colada: Tropical paradise, classic coconut and pineapple pairing with white 
White Champagne Raspberry: Sweet raspberry, champagne and safflowers...its as pretty as it tastes.
After the Rain: Like the clear skies after the rain, this is a blend of white tea with both peppermint and spearmint.