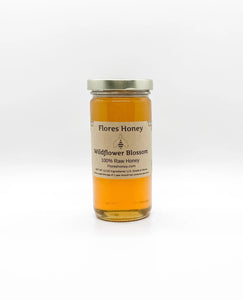 The Flores Honey Company has many unique and distinct honey flavors they cultivate in and around Southern California.
Wildflower Blossom Pure Raw Honey is produced from bees in and around Brea, California. These happy bees forage on the local wildflowers and produce a sweet honey with gorgeous blossomy flavor.
Because this is raw honey and not treated with high temperature heat, it retains the wholesome goodness and health benefits of some of the pee pollen naturally found in honey.
The jar holds 12 ounces of sweetness.